Scotland's drink drive limit set to be lowered
4.8 out of 5
Our customers rate us
"EXCELLENT"
AS SEEN ON

24.10.2014
Scotland's drink drive limit set to be lowered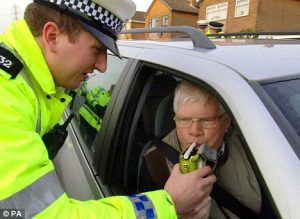 The drink driving limit in Scotland looks like it is to be lowered making it illegal to get behind the wheel of a car after drinking a half pint of beer – just in time for Christmas.
The Justice Secretary Kenny MacAskill has taken steps which, if approved by the Scottish Parliament, would mean a new limit being introduced on 5 December 2014.
Under the plans, Scotland's blood alcohol limit would be cut from the current limit of 80mg in every 100ml of blood to 50mg.
This would mean the legal limit in Scotland would be significantly lower than in England – where 80mg in 100ml of blood would still be enough to see a motorist charged with drink driving.
If the blood/alcohol ratio were to be reduced it would bring Scotland's legal alcohol limits in line with much of Europe, however a public awareness campaign will still warn drivers that the only way to remain safe on the roads is not to drink at all.
Scotland has a poor record when it comes to alcohol consumption, drinking on average 20% more than those in the rest of the UK.
The draft legislation to make the change has been laid before parliament, and Mr MacAskill said drink driving shattered families lives as well as communities, explaining it was time to take action to reduce the risk on Scotland's roads.
He told BBC Scotland the plans to change the drink-drive limit had "broad support".
The justice secretary said: "The support comes not just from the police and law enforcement. It comes from those involved in road safety."
But he also stressed why the government didn't simply apply a zero tolerance approach, Mr MacAskill said: "There are reasons why individuals may have alcohol in their system. It is also quite clear at the 50 (mg) limit, that is when impairment begins to kick in."
The Royal Society for the Prevention of Accidents (RoSPA) welcomed the move, and believes the rest of the UK should soon follow suit.
RoSPA's Road Safety Manager in Scotland Sandy Allan said: "There is a considerable body of research which shows that reducing drink drive limits is effective in reducing drink-drive deaths and injuries. We would like to see the rest of the UK follow Scotland's example."
In light of the recent Scottish referendum the move shows that the two nations still intend to work on their own legislation.
When asked about why Scotland did not work with the westminster government on the issue, Mr MacAskill said: "We did seek that, but it was the United Kingdom government that decided not to lower the limit despite, I think, a great deal of public support for it being lowered down there."
Why Choose Us
Ranked in the top 20 law firms by Trustpilot
Nationwide Legal Coverage
Free Consultation
Fixed Fee Terms
Competitive Rates
Flexible Payment Plans
Trusted Legal Care
UK's Leading Motoring Solicitors
We have been successfully representing clients in motoring courts nationwide
Contact us for a free consultation, our expert solicitors will be able to discuss your case and advise on legal options.
Birmingham
Bradford
Bristol
Carlisle
Cardiff
Chelmsford
Huddersfield
Hull
Manchester
Liverpool
Leeds
London
Newcastle
Norwich
Nottingham
Sheffield
Request free consultation