6% of drivers don't use a seatbelt according to poll
4.8 out of 5
Our customers rate us
"EXCELLENT"
AS SEEN ON

30.09.2014
6% of drivers don't use a seatbelt according to poll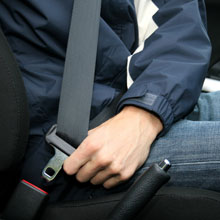 It is more than 30 years since it became law to wear a seatbelt while driving, yet up to two million drivers in the UK are still not using one with, 47% of drivers unaware that they could incur a fine, according to a new survey.
A poll by LV car insurance has found that 6% of drivers in the UK are still taking to the roads without a seatbelt.
If you have a crash, you're twice as likely to die if you are not wearing a belt according to government figures, but two million of us are doing it anyway, the poll says.
Nearly 180,000 fixed penalty notices were issued for seatbelt offences last year – a 17% increase on the figure for 2009.
Among those who confessed to not wearing belts, older drivers said they were too restricting while younger motorists said they sometimes did not comply on shorter journeys.
"Many simply do not think they'll ever need them," says Graham Hope, a senior lecturer in psychology at the University of Sussex.
"There is a self-serving bias where people think they are more likely to survive than other people, and less likely to ever be involved in an accident in the first place."
While LV managing director John O'Roarke said: "Wearing a seatbelt can drastically improve your chances of survival in an accident, even if it's just for a short journey.
"The research shows that too many people are still taking unnecessary risks when driving or travelling as a passenger.
"There is only so much you can do to prevent being in a car accident but wearing a seatbelt costs nothing and it may save your life one day."
Not wearing a seatbelt carries a fine of up to £500. According to the survey, £8.2m in fines have been issued so far this year to 80,000 drivers.
Why Choose Us
Ranked in the top 20 law firms by Trustpilot
Nationwide Legal Coverage
Free Consultation
Fixed Fee Terms
Competitive Rates
Flexible Payment Plans
Trusted Legal Care
UK's Leading Motoring Solicitors
We have been successfully representing clients in motoring courts nationwide
Contact us for a free consultation, our expert solicitors will be able to discuss your case and advise on legal options.
Birmingham
Bradford
Bristol
Carlisle
Cardiff
Chelmsford
Huddersfield
Hull
Manchester
Liverpool
Leeds
London
Newcastle
Norwich
Nottingham
Sheffield
Request free consultation