Plans to reduce motorway speeds skid to a halt
4.8 out of 5
Our customers rate us
"EXCELLENT"
AS SEEN ON

14.07.2014
Plans to reduce motorway speeds skid to a halt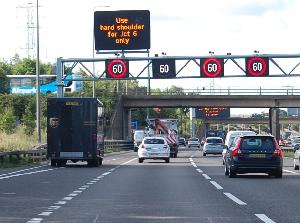 Plans to impose a 60mph speed limit on parts of the M3 and M1 motorways to cut air pollution will not be going ahead – for the time being anyway according to the BBC.
Transport Secretary Patrick McLoughlin has given the Highways Agency 18 months to devise alternative methods to tackle pollution on a 32 mile stretch of the M1 in Derbyshire and South Yorkshire and 2.8 miles of the M3 in Surrey.
If none can be found a 60mph limit could still be imposed at peak times.
However, Mr McLoughlin has ruled out a blanket cut in the speed limit and The Highways Agency has been asked to look at different ways of measuring local air quality.
It is also looking at alternative methods of cutting pollution, such as erecting high barriers along the relevant sections of the motorway to funnel fumes away from ground level.
These barriers have been found useful when it comes to cutting pollution and noise in large-scale tests in Holland, where speed limits have also been reduced on busy trunk roads amid concern about air quality.
Another option might be banning heavily-polluting vehicles at certain times.
The air quality concern is particularly focussed on the M1 and M3 during road-widening schemes which are being introduced to cut congestion.
Work is about to begin on converting two sections of the M1, between junctions 28 and 31 in Derbyshire and junctions 32 and 35a in South Yorkshire, and on the M3, between junctions 2 and 4a to allow the hard shoulder to be used permanently or at peak times.
Why Choose Us
Ranked in the top 20 law firms by Trustpilot
Nationwide Legal Coverage
Free Consultation
Fixed Fee Terms
Competitive Rates
Flexible Payment Plans
Trusted Legal Care
UK's Leading Motoring Solicitors
We have been successfully representing clients in motoring courts nationwide
Contact us for a free consultation, our expert solicitors will be able to discuss your case and advise on legal options.
Birmingham
Bradford
Bristol
Carlisle
Cardiff
Chelmsford
Huddersfield
Hull
Manchester
Liverpool
Leeds
London
Newcastle
Norwich
Nottingham
Sheffield
Request free consultation