Behind the Headlines: Neil Davies explains how drunk, speeding motorist escaped jail
4.8 out of 5
Our customers rate us
"EXCELLENT"
AS SEEN ON

19.06.2015
Behind the Headlines: Neil Davies explains how drunk, speeding motorist escaped jail

Senior Partner Neil Davies was in the news recently after he defended a man who had been caught driving at 121 mph while twice over the legal alcohol limit as three children sat in the back of the car.
Adam Evans (pictured above), 35, was stopped by police on the M62 near Goole on May 9.
Appearing at Scunthorpe Magistrates' Court, Evans pleaded guilty to speeding and driving while over the drink-drive limit – he was banned for 18 months and given a 12-month community order, including 250 hours unpaid work.
But how did the court come to this decision and was it a more lenient sentence than some would have expected or even called for?
Here, Neil Davies explains his take on the case, his approach and the reasons for the sentence that was handed down.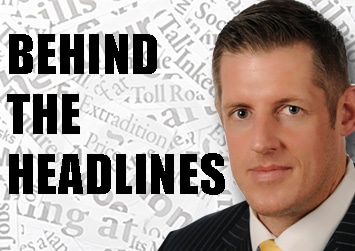 "Mr Evans was originally charged with Drink Driving and the very serious offence of Dangerous Driving. However, we were able to persuade the Crown Prosecution Service to withdraw the charge of Dangerous Driving and to replace it with the offence of Speeding.
"So ultimately Mr Evans entered guilty pleas to the offences of Speeding and Drink Driving.
"I personally represented Mr Evans before the court and was able to explain, with the support of an expert report, that the defendant had driven the morning following a night out and had misjudged how much alcohol he had consumed when driving the next day. He had also been in a hurry to meet a family obligation and in his haste drove too fast. It was also highlighted that whilst the offence was on its face very serious, he was a man that had never been in trouble before and that in 18 years of driving had never had a single penalty point endorsed on his driving licence.
"While the district judge hearing the case indicated in the first instance that she was considering imposing a prison sentence, after hearing the mitigation in the case our client was sentenced by way if a community order which requires him to carry out 250 hours unpaid work and to attend on a rehabilitation course. He was also disqualified from driving for a period of 18 months with this period being reduced to just over 13 months if he attends and completed a drink driving course.
"Mr Evans made a grave error of judgement and committed a serious offence, but this sentence shows that in some cases honesty can be the best policy. By entering an early guilty plea and fully explaining the surrounding circumstances to the court while providing the court with detailed supporting documentation, our client has received a very lenient sentence and avoided a custodial sentence."
Do you have a motoring law issue for Neil Davies to discuss? Feel free to tweet your questions to @CaddickDavies and remember to use #AskNeilDavies.
Why Choose Us
Ranked in the top 20 law firms by Trustpilot
Nationwide Legal Coverage
Free Consultation
Fixed Fee Terms
Competitive Rates
Flexible Payment Plans
Trusted Legal Care
UK's Leading Motoring Solicitors
We have been successfully representing clients in motoring courts nationwide
Contact us for a free consultation, our expert solicitors will be able to discuss your case and advise on legal options.
Birmingham
Bradford
Bristol
Carlisle
Cardiff
Chelmsford
Huddersfield
Hull
Manchester
Liverpool
Leeds
London
Newcastle
Norwich
Nottingham
Sheffield
Request free consultation