Road to hell: Motorists Face Roadworks Misery
4.8 out of 5
Our customers rate us
"EXCELLENT"
AS SEEN ON

02.05.2014
Road to hell: Motorists Face Roadworks Misery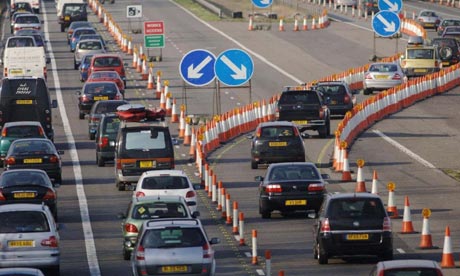 Motorists who feel there are far too many roadworks being carried out on our streets and highways may have a point, according to a new survey.
A total of 91 councils provided information about the number of roadworks in their area, with the unfinished projects mounting up to almost 25,000.
Among the oldest and most unpopular projects are repairs on the A629 Brow Lane in Halifax and Carey Street in London, which have both been going on over 18 months each.
LV=, which commissioned the survey, estimates there are over 2,300 miles of roads currently being repaired.
The council with the most outstanding roadworks is Suffolk County Council with 1,906, followed by Leicestershire City Council (1,250) and Derby City Council (930).
A total of 109 councils said how much they had spent on road maintenance in 2013, with the overall figure of more than £647m – that's an average of £5.94m per council area.
LV= Road Rescue managing director Peter Horton said: "Local authorities face a difficult challenge to repair and maintain our roads this year, particularly given the impact of the adverse weather we have seen in recent months.
"With more cars on the road than ever, it will be hard to carry out roadworks without impacting drivers."
They also spoke to over 2,000 drivers who said that roadworks were affecting a third of journeys and adding an average of 12 minutes to travel times.
The added frustration has also been blamed for causing frustrations to boil over at the wheel, with a total of 13% of drivers saying they have experienced aggressive behaviour from another motorist while stuck in jams due to roadworks. And 4% (the equivalent of 1.2 million drivers) have broken down as a result of their car over-heating while sitting in traffic.
Around 66% of those polled felt road quality in their area was getting worse and 37% said projects were not completed quickly enough.
Peter Box, chairman of the Local Government Association's economy and transport board, said authorities always tried to carry out work quickly and to a high standard.
But blamed a lack of cash, saying this has "trapped councils in an endless cycle of only being able to patch up our road network".
"We need increased and consistent funding for the widespread resurfacing projects we desperately need if we're ever to see a long-term improvement," he said.
Why Choose Us
Ranked in the top 20 law firms by Trustpilot
Nationwide Legal Coverage
Free Consultation
Fixed Fee Terms
Competitive Rates
Flexible Payment Plans
Trusted Legal Care
UK's Leading Motoring Solicitors
We have been successfully representing clients in motoring courts nationwide
Contact us for a free consultation, our expert solicitors will be able to discuss your case and advise on legal options.
Birmingham
Bradford
Bristol
Carlisle
Cardiff
Chelmsford
Huddersfield
Hull
Manchester
Liverpool
Leeds
London
Newcastle
Norwich
Nottingham
Sheffield
Request free consultation