Pensioner caught speeding on mobility scooter causes havoc in supermarket
4.8 out of 5
Our customers rate us
"EXCELLENT"
AS SEEN ON

17.10.2014
Pensioner caught speeding on mobility scooter causes havoc in supermarket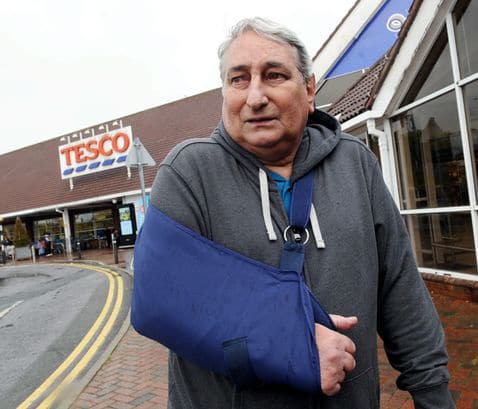 A pensioner is lucky not to be receiving a speeding ticket for riding a mobility scooter at 25mph – in a SUPERMARKET.
And to make it worse, he also knocked down a fellow shopper who is now being treated for his injuries.
Bruce Storr, 67, was doing his weekly shop in Tesco when an elderly man came roaring down the aisle and slammed straight into him, sending him flying through the air and he landing on his arm and shoulder, chipping a bone and leaving him in agony.
Police are investigating the collision that happened in Plymouth, Devon, but as yet the man on the scooter rhas not been charged.
Mobility scooters can normally go no faster than 8mph but lorry driver Storr is convinced it was doing much more than that.
He said: "I was at the paper stand picking up a newspaper when he came shooting out of the aisle where they keep the videos and DVDs.
"It was doing about 25mph – being a HGV driver I am a very good judge of speed.
"Hit me on the backside. I was knocked backwards by a good five or six feet and landed on my shoulder and my head."
"I was on the floor when the ambulance came and they took me to A&E. The police were also there and spoke to witnesses and took statements.
"I didn't see much else but my Granddaughter said he was a grumpy old man, swinging his legs around like he didn't care. He didn't apologise."
Under current legislation anyone over the age of 14 can hop abroad without any sort of test and safety campaigners want the law tightened up so people need licenses to drive mobility scooters.
Since the incident Mr Storr has been left with a very painful shoulder and has been to hospital twice to have his injuries looked at.
He added: "I can't use my right hand and my shoulder is very painful. When I went back they said I had chipped a bone in my shoulder.
"It's painful and swollen, and my neck is bruised. Something needs to be done about these mobilityscooters, they can be very dangerous."
Devon and Cornwall Police said an investigation into the collision was continuing.
Why Choose Us
Ranked in the top 20 law firms by Trustpilot
Nationwide Legal Coverage
Free Consultation
Fixed Fee Terms
Competitive Rates
Flexible Payment Plans
Trusted Legal Care
UK's Leading Motoring Solicitors
We have been successfully representing clients in motoring courts nationwide
Contact us for a free consultation, our expert solicitors will be able to discuss your case and advise on legal options.
Birmingham
Bradford
Bristol
Carlisle
Cardiff
Chelmsford
Huddersfield
Hull
Manchester
Liverpool
Leeds
London
Newcastle
Norwich
Nottingham
Sheffield
Request free consultation